About Adventist Bakery
The Birth of Adventist Bakery
In the early seventies, Mrs Heisler, wife of Penang Adventist Hospital's Business Manager, conducted some vegetarian cooking classes for the public. It was there, for the first time, that she revealed her recipe for 'enriched' wholemeal bread.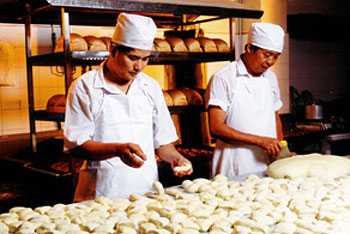 Health conscious individuals took an instant liking to the bread and were eager to obtain it on a regular basis. In response to this overwhelming demand, the Penang Adventist Hospital began production of the wholemeal bread on a small scale for patients and staff members. Soon other bakeries in Penang followed suit and the taste buds of Penangites got accustomed to this healthy alternative.
To spread this healthy eating habit, some of the Penang Adventist Hospital's bakers were employed by other bakeries to pass on their knowledge and share the expertise.
In the middle of 1994, a portion of the kitchen was renovated and the offices situated alongside were relocated. This relocation made way for the bakery outlet in Penang Adventist Hospital as it is today.
As part of its health promotion to encourage a shift towards healthy eating habits, the Adventist Bakery has increased its variety of nutritious food and supplies them to other establishments. Its most recent innovation is the recipe for Sprouted Life Grain Breads which have become tremendously popular for their tasty and healthy goodness.
Adventist Bakery Penang
The Adventist Bakery in Penang is managed by Adventist Health Services Malaysia Sdn Bhd. It develops recipes, bakes and sells Sprouted Breads as well as other types of breads and baked goods for the Northern Region of Malaysia.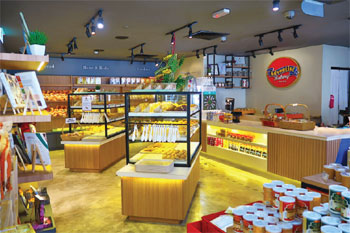 The Adventist Bakery is headquartered at Penang Adventist Hospital, where it all began. Adventist Bakery products can also be easily found on selected shelves both on the island and the mainland. They also run a special service that sees Adventist Bakery goods being sold at office complexes, schools and other locations throughout the week.
Adventist Bakery products go through stringent quality control and is certified Halal. A strict adherence to the brand's promise of good taste and nutrition means the task of finding new recipes isn't always as easy as pie. However, they constantly rise to the challenge much to the pleasure of the bakery's many loyal fans. To aid their efforts, bakery personnel are also sent on research trips in Malaysia and abroad to learn about new baking techniques and to gain inspiration for new recipe ideas.
A Sprout of Health
At the Adventist Bakery, we are dedicated to the task of providing delicious and above all, natural and wholesome foods that are just what we need to nurture good health.
It all started at Penang Adventist Hospital with the idea that nutritious and healthy food can also be tasty and stimulate the appetite. At the time, the ultimate aim was to help the patients of Penang Adventist Hospital heal through good nutrition.
Today, by continuing to use quality ingredients that are full of nutrients like sprouted grains, and a determination to maximise taste and flavour - the Adventist Bakery brand has become synonymous with the promise of Good Health in Every Recipe.